My Most Requested Cake Flavors and fillings
Wedding White Cake – Made with fresh dairy sour cream and filled with homemade butter cream or a Salted Caramel buttercream filling.
Chocolate Chocolate Chip Cake – Layers of chocolaty cake filled with chocolate butter cream or Chocolate Truffle filling.
Strawberry Cake – Strawberry studded cake filled with butter cream with a layer of strawberry filling.
Lemon Cake – Luscious lemon layers filled with butter cream filling with a layer of raspberry.

Chocolate Bourbon Cake - Rich chocolate bourbon cake filled with Brown Sugar Bourbon buttercream.

Red Velvet – A moist mildly cocoa flavored red cake studded with chocolate chips and filled with Cream Cheese filling.






*Speciality Cakes and fillings with an additional charge:
Italian Cream Cake, Carrot Cake, Banana Cake, Chocolate Bourbon Cake
Brown Sugar Bourbon buttercream

These are ohhh so special and take extra ingredients to bake for you.

Fillings:
Any flavor Buttercream Chocolate Truffle
White Chocolate Truffle Cookies and Cream
Whipped Cream Chocolate Ganache
Raspberry and Strawberry Preserves Chocolate Chip Cookie Dough
*Brown Sugar Bourbon buttercream Salted Caramel Buttercream
Icings:
Buttercream
Cream Cheese
Chocolate Ganache
Chocolate Buttercream

The flavor you want not listed? . . . Contact me! Cakes By Ellie, LLC - 859-624-2137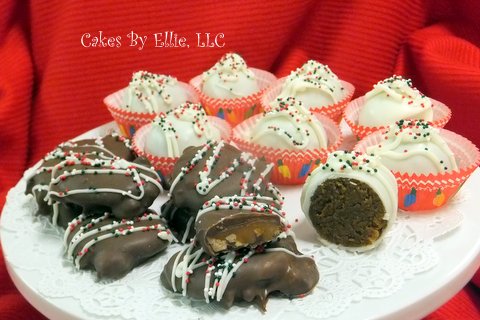 Some of my "other types of desserts" that make for a very fun party treat!


Other types of desserts available: something else you are looking for.. contact me
Holiday Treats
Chocolate Turtles
Fruit Tart
Bannana Bread
Cupcakes and cookies


**************************************************************************
Time - it takes several hours to create your special cake! Please call me with your cake order as soon as possible so that I can begin to prepare your dream in time for that special occasion.

I can work with your sketch, drawing or a photograph. If the design is not copyrighted I will create it for you.